15. Revisiting Glycosylations Using Glycosyl Fluoride by BF3·Et2O: Activation of Disarmed Glycosyl Fluorides with High Catalytic Turnover [abstract]
DOI: 10.1021/acs.orglett.1c03233
Yoshiyuki Manabe, Takuya Matsumoto, Yuka Ikinaga, Yuya Tsutsui, Shota Sasaya, Yuichiro Kadonaga, Akihito Konishi, Makoto Yasuda, Tomoya Uto, Changhao Dai, Kumpei Yano, Atsushi Shimoyama, Ayana Matsuda, and Koichi Fukase
Org. Lett. in press


14. Carboboration-Driven Generation of a Silylium Ion for Vinylic C–F Bond Functionalization by B(C6F5)3 Catalysis [abstract]
DOI: 10.1002/chem.202103852
Tetsuji Yata, Yoshihiro Nishimoto, Makoto Yasuda
Chem. Eur. J. in press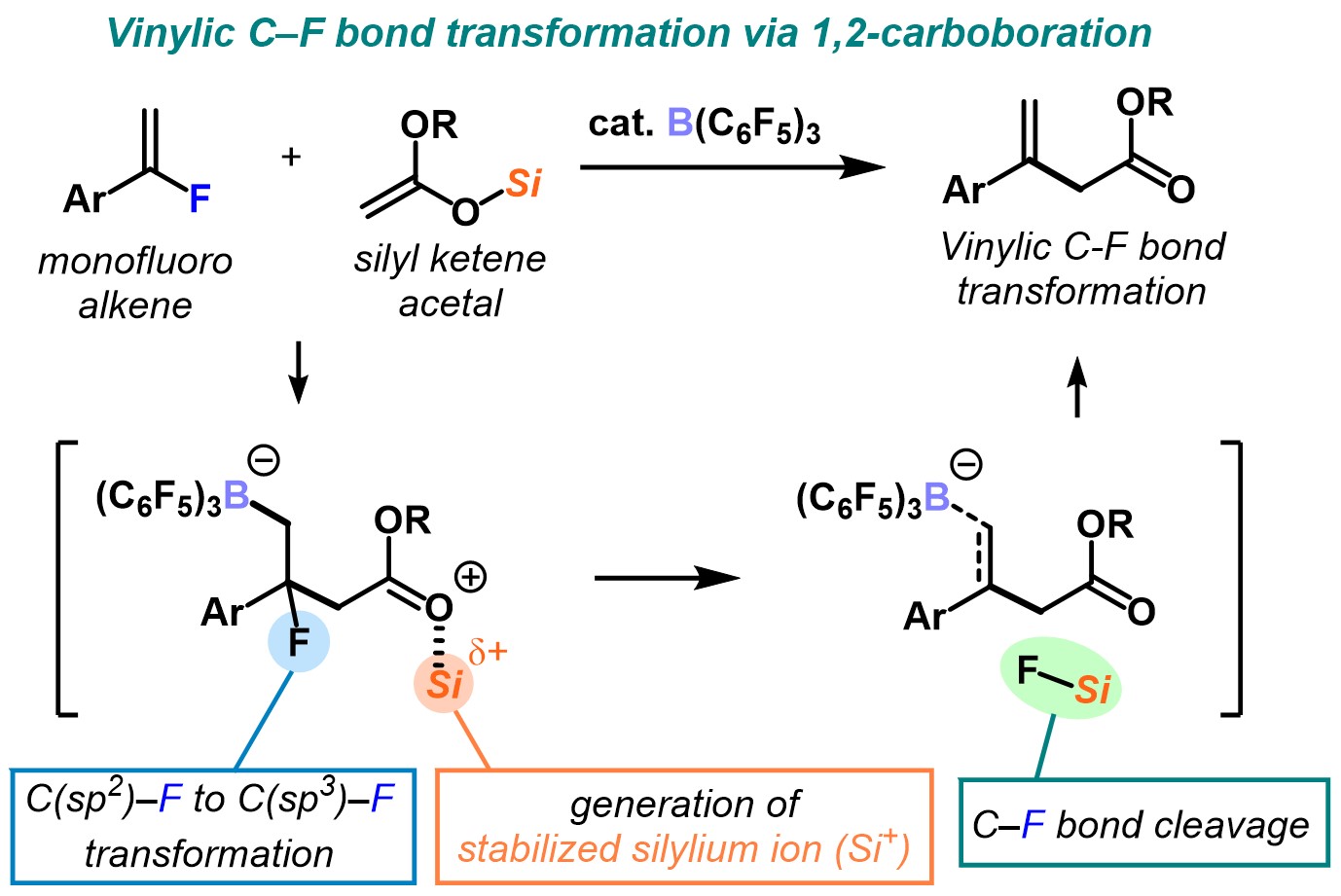 13. Access to Metastable [GeH2]n Materials via a Molecular "Bottom-up" Approach [abstract]
DOI: 10.1039/D1DT02850B
Jocelyn Sinclair, William Medroa del Pino, Kwami Aku-Dominguez, Yohei Minami, Anagha Kiran, Michael J. Ferguson, Makoto Yasuda, Eric Rivard
Dalton Trans. in press
12. Synthesis of π-Extended Non-Alternant Hydrocarbons Based on Azulene (5-7), Pentalene (5-5) and Heptalene (7-7) Skeletons and Elucidation of Their Electronic Structures [abstract]
DOI: 10.1016/bs.apoc.2021.10.001
Akihito Konishi, Makoto Yasuda
Advances in Physical Organic Chemistry, in press
11. Insertion of Diazo Esters into C–F Bonds toward Diastereoselective One-Carbon Elongation of Benzylic Fluorides: Unprecedented BF3 Catalysis with C–F Bond Cleavage and Re-formation [abstract]
DOI: 10.1021/jacs.1c10517
Fei Wang, Yoshihiro Nishimoto, Makoto Yasuda
J. Am. Chem. Soc. 2021, 143, 20616–20621.
Selected as a cover picture [Link]
Spotlights on JACS publications [Link]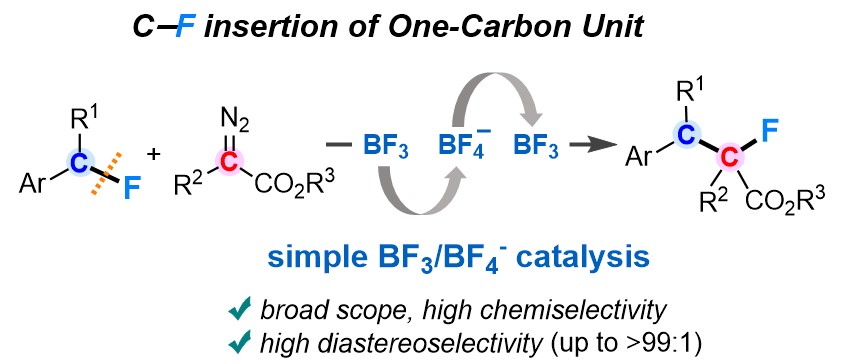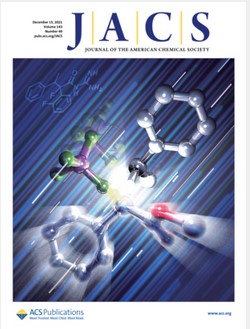 10. Synthesis and Catalytic Activity of Atrane-type Hard and Soft Lewis Superacids with a Silyl, Germyl, or Stannyl Cationic Center [abstract]
DOI: 10.1002/asia.202100873
Daiki Tanaka, Akihito Konishi, Makoto Yasuda
Chem. Asian J. in press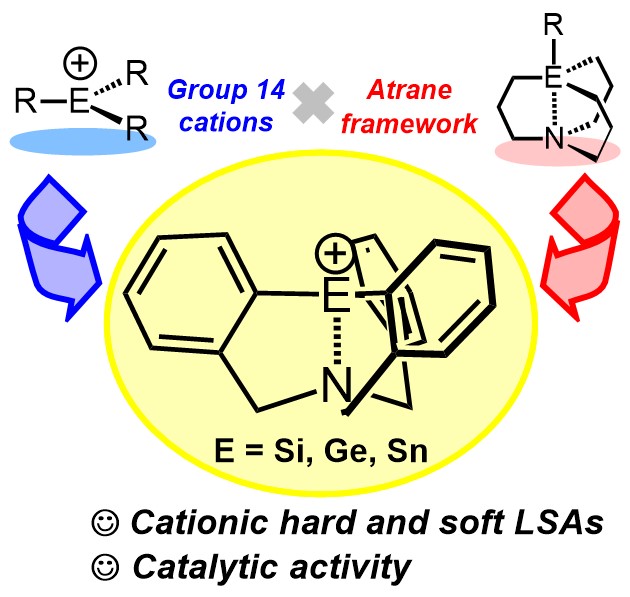 9. 第三の生命鎖「糖鎖」を構築する合成化学~グリコシル化の最前線~
カゴ型アルミニウム触媒を用いた立体選択的グリコシル化 [book]
小西彬仁、角永悠一郎、真鍋良幸、深瀬浩一、安田 誠
月刊BIO INDUSTRY, 2021, 38, 23-31.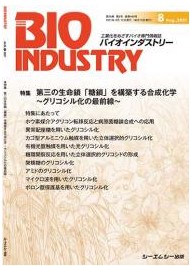 8. Middle Molecular Strategy -Flow Synthesis to Functional Molecules- [book]
Chapter: Reaction Field for a Lewis Acid with a Tunable Factor for Selective Organic Synthesis (pp 225-260)
Akihito Konishi, Yoshihiro Nishimoto, Makoto Yasuda
Editors:  Koichi Fukase, Takayuki Doi
Publisher: Springer (ISBN: 978-981-16-2458-2)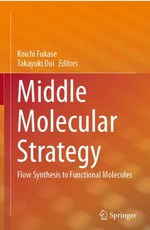 7. Homologation of Alkyl Acetates, Alkyl Ethers, Acetals and Ketals by Formal Insertion of Diazo Compounds into a Carbon-Carbon Bond [abstract]
DOI: 10.1055/a-1523-1551
Fei Wang, Junyi Yi, Yoshihiro Nishimoto, Makoto Yasuda
Synthesis in press
Feature Article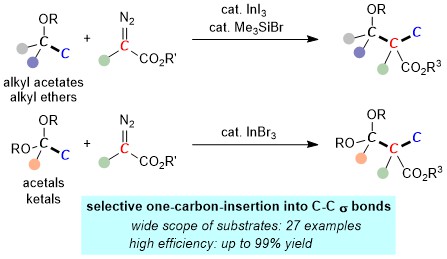 6. Photoredox-Catalyzed C–F Bond Allylation of Perfluoroalkylarenes at the Benzylic Position [abstract]
DOI: 10.1021/jacs.1c03760
Naoki Sugihara, Kensuke Suzuki, Yoshihiro Nishimoto, Makoto Yasuda
J. Am. Chem. Soc. 2021, 143, 9308-9313.
Selected as a cover picture [Link]
プレスリリース(大阪大学ResOU)
プレスリリース(CREST)
EurekAlert!
ケムステスポットライトリサーチ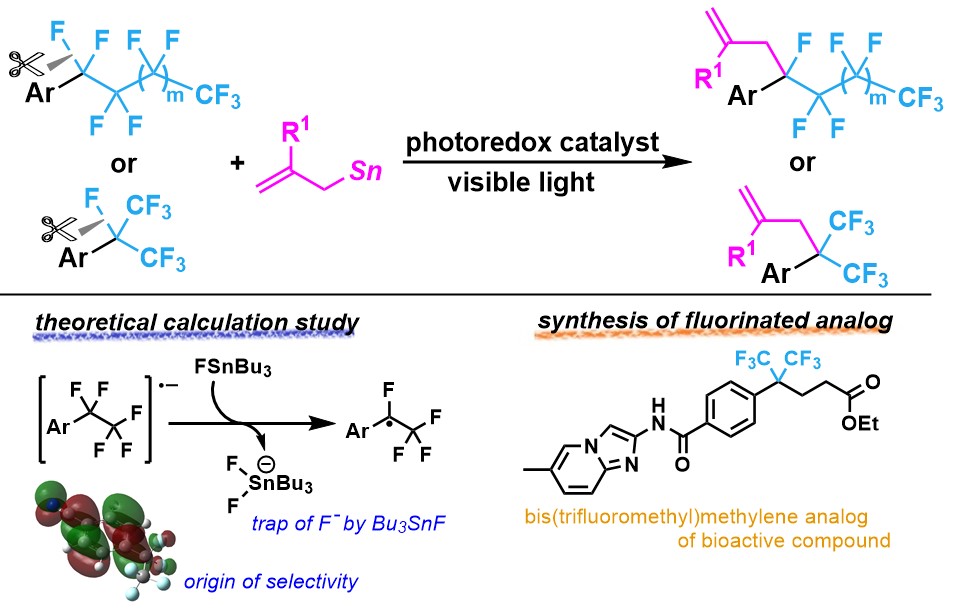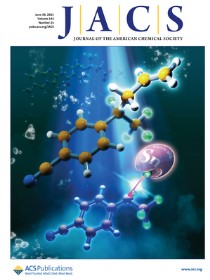 5. Effect of Noncovalent Interactions in Ion Pairs on Hypervalent Iodines: Inversion of Regioselectivity in Sulfonyloxylactonization [abstract]
DOI: 10.1039/D1QO00523E
Yoshihiro Nishimoto, Masaki Fujie, Junki Hara, Makoto Yasuda
Org. Chem. Front. 2021, 8, 3695-3704.

4. Characterization of Benzo[a]naphtho[2,3-f]pentalene: Interrelation between Open-shell and Antiaromatic Characters Governed by Mode of the Quinoidal Subunit and Molecular Symmetry [abstract]
DOI: 10.1002/asia.202100398
Akihito Konishi, Koki Horii, Haruna Iwasa, Yui Okada, Ryohei Kishi, Masayoshi Nakano, Makoto Yasuda
Chem. Asian J. 2021, 16, 1553-1561.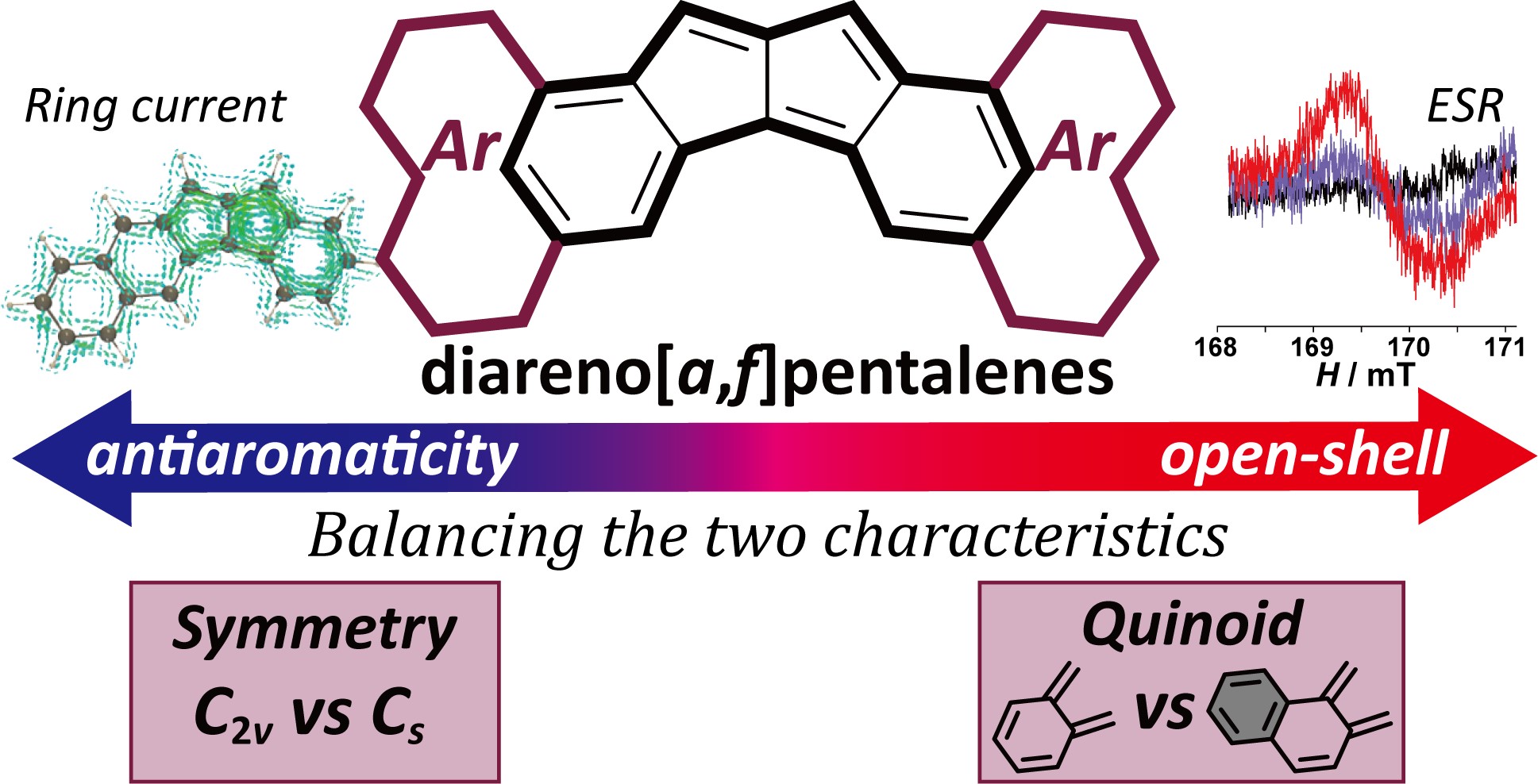 3. Indium‐catalyzed C–F Bond Transformation through Oxymetalation/β‐fluorine Elimination to Access Fluorinated Isocoumarins [abstract]
DOI: 10.1002/chem.202100672
Tetsuji Yata, Yoshihiro Nishimoto, Kouji Chiba, Makoto Yasuda
Chem. Eur. J. 2021, 27, 8288-8294.
Selected as Hot Paper
Selected as a Cover Picture [Link] and Cover Profile [Link]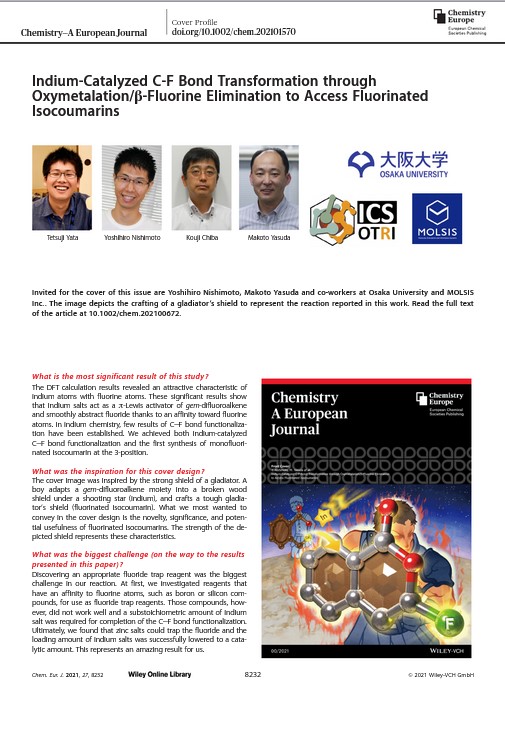 2. アズレン,ペンタレン,ヘプタレン骨格を含むπ拡張非交互炭化水素類の合成と性質[abstract]
DOI: 10.5059/yukigoseikyokaishi.79.224
小西 彬仁, 安田 誠
有機合成化学協会誌 2021 年 79 巻 3 号 p. 224-233.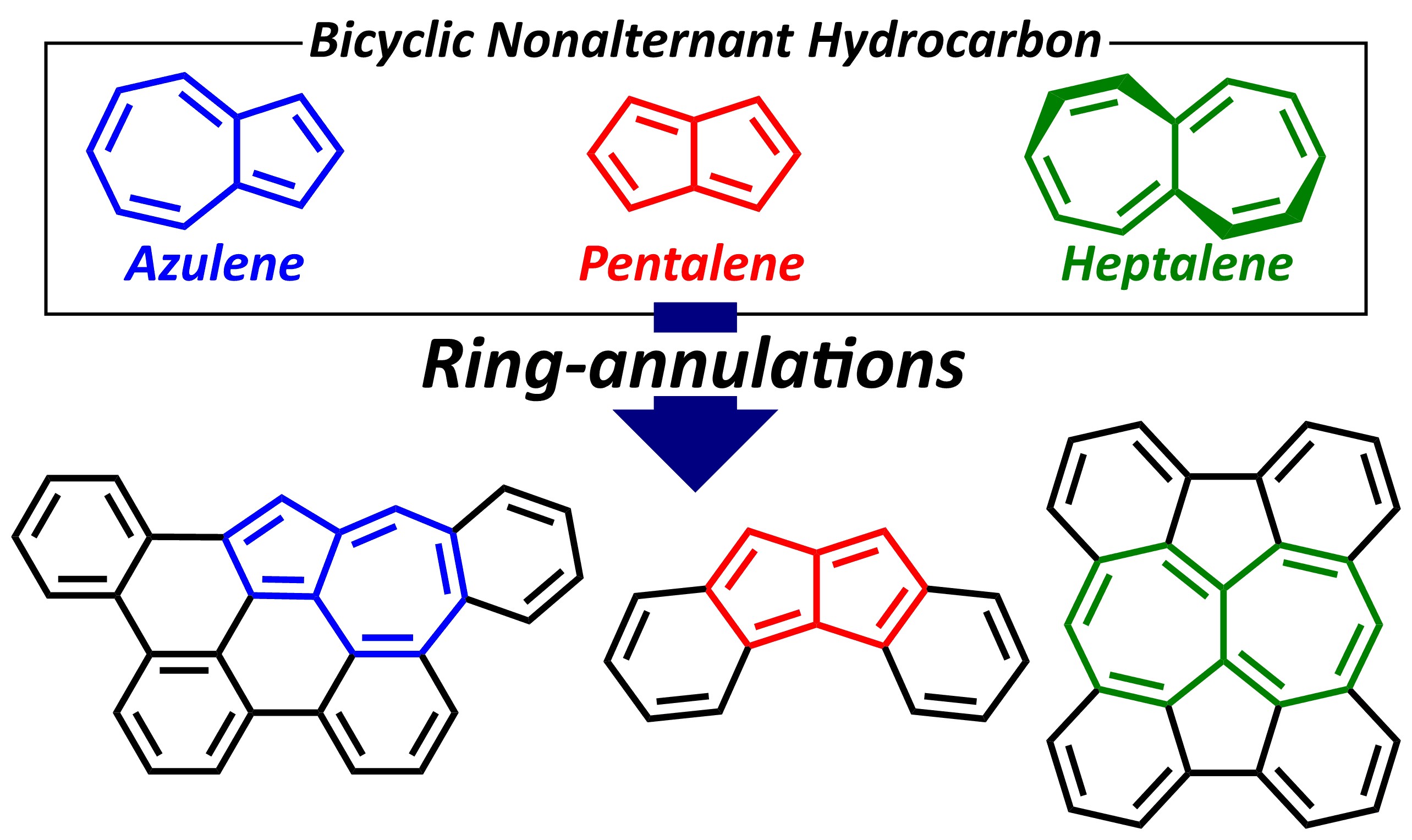 1. Tuning of Lewis Acidity of Phebox-Al Complexes by Substituents on the Benzene Backbone and Unexpected Photocatalytic Activity for Hydrodebromination of Aryl Bromide [abstract]
DOI: 10.1246/cl.200894
Shuichi Nakao, Yoshihiro Nishimoto, Makoto Yasuda
Chem. Lett. 2021, 50, 538-541.