❶ Utilization of N-X bonds in the synthesis of N-heterocycles
Simple nitrogen-containing heterocycles could be constructed from carbon-carbon double bond (including fulleren) as carbon resources.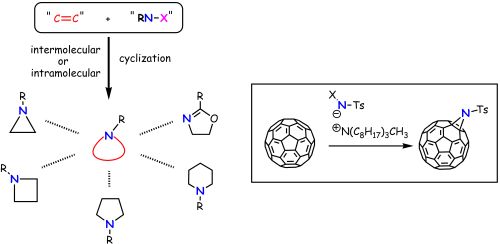 Acc. Chem. Res. 2009, 42, 1172.


❷ Application of carbon dioxide to organic synthesis
Carbon dioxide fixation to unsaturated alcohols could be realized under extremely mild conditions by using tert-BuOI.

Angew. Chem. Int. Ed. 2010, 49, 1309.

Haloamidation of olefins induced by carbon dioxide was developed.

Org. Lett. 2006, 8, 967. Org. Bio.mol. Chem. 2010, 8, 1424.


❸ Application of water/silica system to organic synthesis
Organic reactions on silica in water were successfully achieved by utilizing hydrophobic interaction.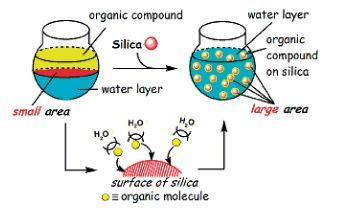 Chem. Rev. 2009, 109, 711. Angew. Chem. Int. Ed. 2004, 43, 79.


❹ Inclusion of organic molecules into inorganic porous materials by solvophobic interaction
Fullerene C60 could be readily introduced into MCM-41, a periodic mesoporous material, by solvophobic interaction.

J. Am. Chem. Soc. 2008, 130, 1536.