Notice:
New website of Sakurai group is here: http://www.chem.eng.osaka-u.ac.jp/~sakurai-lab/
Our Research
We are aiming to elucidate the basic principle in order to synthesize novel compounds efficiently and selectively based on the chemical and physical properties of organic molecular. For this purpose, we are performing systematic studies of substittuent and solvent effects of novel reactions to propose the mechanism, considering the steric and electronic factor governing the reaction. It is necessary to investigate molecular orbital theoretically and kinetically to this goal.
Main Research theme
Development of Novel Reaction Based on Electron Acceptability of Fullerenes and Quinone/Carbonyl Compounds
Solvent Effects and Reaction Kinetics
Study on Molecular Orbital of Cage Compounds
Application of Water-soluble Fullerene Nano Particle
Elucidation of Structure and Reactivity of Fullerene Multiadduct
Development of New Fullerene Materials
(Liquid Crystals and Photoresists)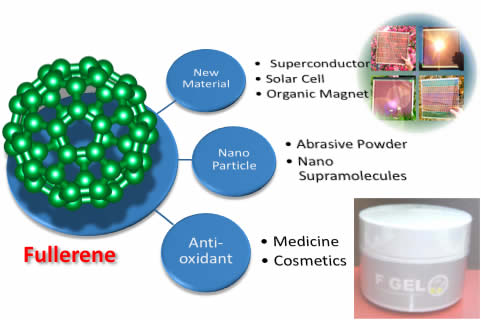 Kinetic Study of Fullerene Reactions
By kinetic comparison of reactivity of C60 and C70, the correlation between molecular structure and the reactivity was governed by FMO theory.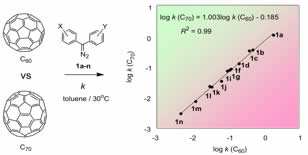 References:
Tetrahedron Lett., 2012, 53, 3581.
Org. Biomol. Chem., 2012, 10, 1730.
Eur. J. Org. Chem., 2011, 6452.
Org. Lett., 2008, 10, 293-296.
Org. Lett., 2007, 9, 4045.
J. Org. Chem., 2006, 71, 2995.
R&D of Water-soluble Fullerenes
Application of novel water-soluble fullerenes for functional cosmetics and polishing slurry of semiconductor.

References:
Nano. Res., 2011, 4, 204.
Journal of Composite Materials, 2011, 45, 2595.
CIRP Annals - Manufacturing Technology, 2009, 58, 495.
Nanoscale Res. Lett., 2008, 3, 237-241.
ACS Nano, 2008,2, 327-333.
BioSci. BioTech. Biochem., 2006, 70, 3088.
3. Selective Derivatization of Fullerenes
Clarification of the mechanism and selectivity of radical reaction and hydroarylation of fullerenes.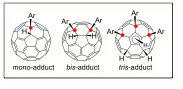 References:
Org. Lett., 2011, 13, 4244.
J. Org. Chem., 2010, 75, 4574.
Org. Lett., 2008, 10, 3335.
4. Novel Reaction of Quinones
Rearrangement reactions of quinone compounds by Lewis acids or photoirradiation.

References:
J. Org. Chem., 2010, 75, 833.
Tetrahedron Lett., 2010, 51, 955.
Chemcomm., 2008, 1804-1806.
Org. Lett., 2007, 9, 3421-3424.
Tetrahedron Lett., 2006, 47, 7881.
Members
Staff
| g•ª | Name | Phone | e-mail* |
| --- | --- | --- | --- |
| Professor | Hidehiro Sakurai | 4591 | hsakurai |
| Associate Prof. | Ken Kokubo | 4592 | kokubo |
| Assistant Prof. | Naohiko Ikuma | 4593 | ikuma |
–Followed by @chem.eng.osaka-u.ac.jp
Fax: +81-6-6879-4593
Students
| Glade | Name | e-Mail* |
| --- | --- | --- |
| M2 | Ryo Takahashi | r.takahashi |
| M2 | Kouichi Fujioka | k.fujioka |
| M1 | Yu Yamazaki | y-yamazaki |
| M1 | Ryohei Shimada | r.shimada |
| B4 | Toshihiko Okada | t.okada |
| B4 | Nozomi Sato | n.sato |
| B4 | Hideaki Toda | h.toda |
| B4 | Shota Hishikawa | s.hishikawa |
| B4 | Sachi Mouri | s.mouri |
–Followed by @chem.eng.osaka-u.ac.jp
Link
Project
Society belonged