Development of Functional Metal Complexes for Artificial Photosynthesis
Visible-light-induced water splitting reaction has attracted much attention due to its potential application toward artificial solar energy conversion and storage. This water-to-fuels conversion consists of the two half-cell reactions, reduction of water to H2 and subsequent oxidation to O2.
Recently, we have reported that some mononuclear ruthenium complexes with an aqua ligand exhibit surprisingly high catalytic activity towards O2 evolution from water in the presence of Ce4+. This finding became a significant breakthrough in this field because it has long been believed that the water oxidation is much more effectively catalyzed by dinuclear or tetranuclear metal complexes (Figure 1).
We also focus on the reduction side of artificial photosynthesis. Recently we discovored that a dinuclear iron-dithiolene complex with an Fe2(μ-S)2 core serve as an efficient catalyst toward the reduction of proton into molecular hydrogen in an aqueous buffer solution (Figure 2).




Figure1: The mononuclear ruthenium complex active for O
2
evolution (left), bubbles of oxygen gas evolved (middle), and the spin density distribution of [Ce(OH)(NO
3
)
5
]
2-
(right). The radical character provided by the hydrocerium(IV) ion plays an important role in the catalysis of the mononuclear ruthenium complexes.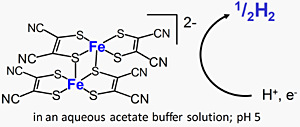 Figure2: The dinuclear iron complex active for H
2
evolution.
References
Oxidation side: a)
Chem. Lett., 2009, 38, 182-183.
b)
Chem. Asian J., 2010, 5, 2369-2378.
Reduction side:
Chem. Lett., 2009, 38, 434-435.